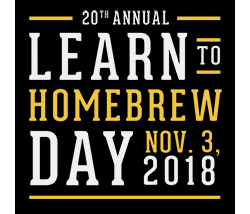 Beginner, Hobbyist and Professional Brewers from All Over the World to Participate
Boulder, Colo • October 23, 2018—
On November 3, the American Homebrewers Association®(AHA)—which this year is celebrating its 40th anniversary—hosts the 20th annual Learn to Homebrew Day, an opportunity for homebrewers to draft their non-brewer friends and family to learn how to make beer at home. Hundreds of lively, educational events are held at homes, breweries, shops and clubs worldwide. Over 300 local celebrations and more than 4,000 participants are expected for this year's celebration both in the U.S. and abroad.
"This year, we celebrate 40 years of the AHA, and 20 years of Learn to Homebrew Day. In 1999, Learn to Homebrew Day was established to promote the most rewarding and delicious activity of all time—homebrewing. And there's never been a better time to give it a try," said Gary Glass, director, American Homebrewers Association. "Each year, it's gratifying to see so many beginners, hobbyists and professionals coming together. What's also gratifying? Tasting your very own brew."
The AHA offers resources to help people of all skill levels begin brewing. Among them is Brew Guru®, a free mobile app which delivers money-saving deals on beer, food and homebrew supplies, plus the finest homebrew recipes on the planet.
Additional homebrewing resources include:
Learn to Homebrew Day was started in 1999 by the AHA to promote homebrewing education in America. The event has now expanded globally, with people participating and hosting their own events around the world. Join the celebration and visit HomebrewersAssocation.org to find an event nearby or register your own.