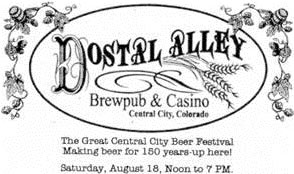 Making beer for 150 years-up here!
Celebrate a milestone in brewing as Central City celebrates 150 years of brewing in Gilpin, Boulder, Clear Creek, Summit, and Denver Counties.
Over a dozen craft breweries, 50+ varieties, historical tours of ancient breweries and locations, food, fun, fortune.
Date: Saturday, August 18, 2012
Time: Noon to 7pm.
Admission: $20 in advance (Ticketswest), $25 at the door, includes tasting glass and exclusive, free casino offers.
Must be 21+ to drink, children, non-drinkers are free!
Location: Main Street, Central City, Colorado, 80427
Only 30 minutes from Denver, and Golden (Coors, Golden City Brewery)
I-70, Exit 243, Central City Parkway.
For more info: Dostal Alley Brewery, 303-582-5563. Playcentralcity.com
Area hotels: Reserve Hotel Casino, Centruy Casino Hotel-Central City, CO
Special Musical Guests:
From Boulder, the Riff Raff Family Band
Denver's very own – Jewel and the Rough
Headlining from Nashville – Los Straitjackets!
Tickets available at ticketswest.com or
at any King Soopers or City Market store.
Brought to you by Dostal Alley Brewery and Casino, the City of Central and Central City Business Improvement District