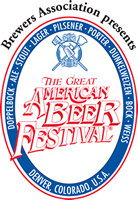 Excerpt from: Scandinavian Brewers' Review. Vol.69 No.5 2012
From our US correspondent, Finn Bjørn Knudsen – a loyal and regular contributor to the SBR – we have received the following article, subsequently elaborated on by your technical editor, on the 2012 version of the mother of all beer festivals, The Great American Beer Festival, which took place in Denver, Colorado, from the 9th through the 13th of October 2012. Finn and Anders Kissmeyer made up the Danish contingent in the judging panel of the completion this year.
Want to read more about this article? Please click here to download!